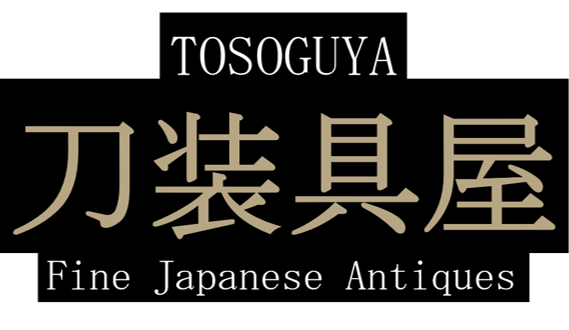 Hayashi Tsuba
Iron sukashi tsuba likely by the 2nd generation (nidai) Hayashi master, Shigemitsu (二代林), with a motif of chrysanthemum branches or eda-giku (枝菊). Relatively complex and well-balanced design and an overall very pleasing tsuba shape. The motif is executed in positive silhouette or yō-sukashi (陽透). The flower petals and veining of the leaves is nicely carved, and the openwork is well distributed. The center of each flower is pierced by a small tapered hole, appearing as a slightly larger aperature on the obverse vs reverse sides. Typical of nidai works, some of the carving encrouches into the seppadai, and the hitsuana are asymmetric. In concert with the sukashi motif, the entire tsuba is shaped in chrysanthemum form or kikuka-gata (菊花形). The sukashi elements are squared while the rim is squared with slight curvature ko-niku kaku-mimi (小肉角耳). It should be noted that nidai Hayashi works share many characteristics with nidai Nishigaki, and this would also be a reasonable attribution for this tsuba, as there is no single definitive kantei point leading attribution to one over the other. The artists were contemporaries, so timing doesn't change.
Highest quality, pinned, custom fitted box with older shifuku.
Measurements: 7.72cm x 7.39cm x 0.47cm
Mid Edo Period (江戸時代), early 18th century.
$1,950
click image for high resolution version


info@tosoguya.com