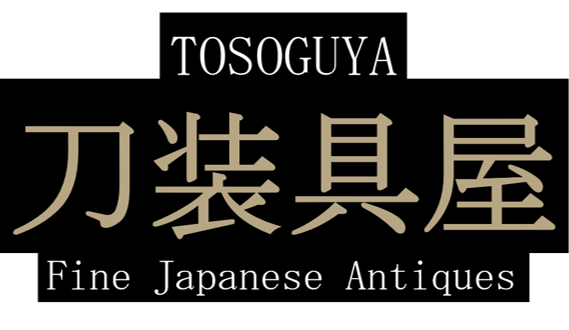 Ichinomiya School Tsuba
Ichinomiya school (一宮) iron tsuba, signed Ichinomiya Kenryūshi Nagayoshi (見龍子長義) with Kao. Motif is of Chinese theme, showing a man seated outside with attendants, playing a Chinese version of the Koto, called a guqin. The motif is most skillfully executed with a fine carving technique termed Katakiri Kebori. The detail is superb, and attests to the high repute of Ichinomiya artists. The shape of this tsuba is termed Goishi-gata, meaning it is shaped like the playing pieces of the game of Go, thickest in the middle and tapering to the edge. The iron surface is slightly polished (Migaki-ji) to help highlight the fine carving. The rim is squared, with tiny bit of roundness (Kaku-mimi ko-niku). The tsuba comes in a custom fitted box. It is rare to find tsuba with such excellent carving in iron, in good condition, making this piece a solid addition to any collection.
Nagayoshi himself was the adopted son of the first Ichinomiya master Nagatsune (1722 - 1787), and succeeded him as the second master of the school. Nagayoshi worked in the second half of the 18th century. He is known to have worked in the Kyōto and Ōsaka areas. This tsuba is signed Heianjō (no) jūnin, meaning 'Living in Heianjō', which is synonymous with Yamashiro province and Kyōto. It is believed he moved from Kyōto to Ōsaka following the great fire of Kyōto in 1789, so this tsuba predates this year.
Translation of the Hozon paper description follows:
奏琴図鐔 (Sō Koto (Guqin) zu tsuba)
銘 平安城住人 一宮 見龍[竜]子長義 (花押) (Mei Heianjō no jūnin Ichinomiya Kenryūshi Nagayoshi Kao)
碁石形 鉄槌磨地 (Goishi-gata tetsu migaki-ji)
片切毛彫 角耳小肉 (Katakiri-kebori Kaku-mimi ko-niku)
Heisei 30th year (2018) November 16th
Measurements: 6.8cm x 6.4cm x 0.5cm
Mid Edo Period (江戸時代中期), ca. 1750-1789
SOLD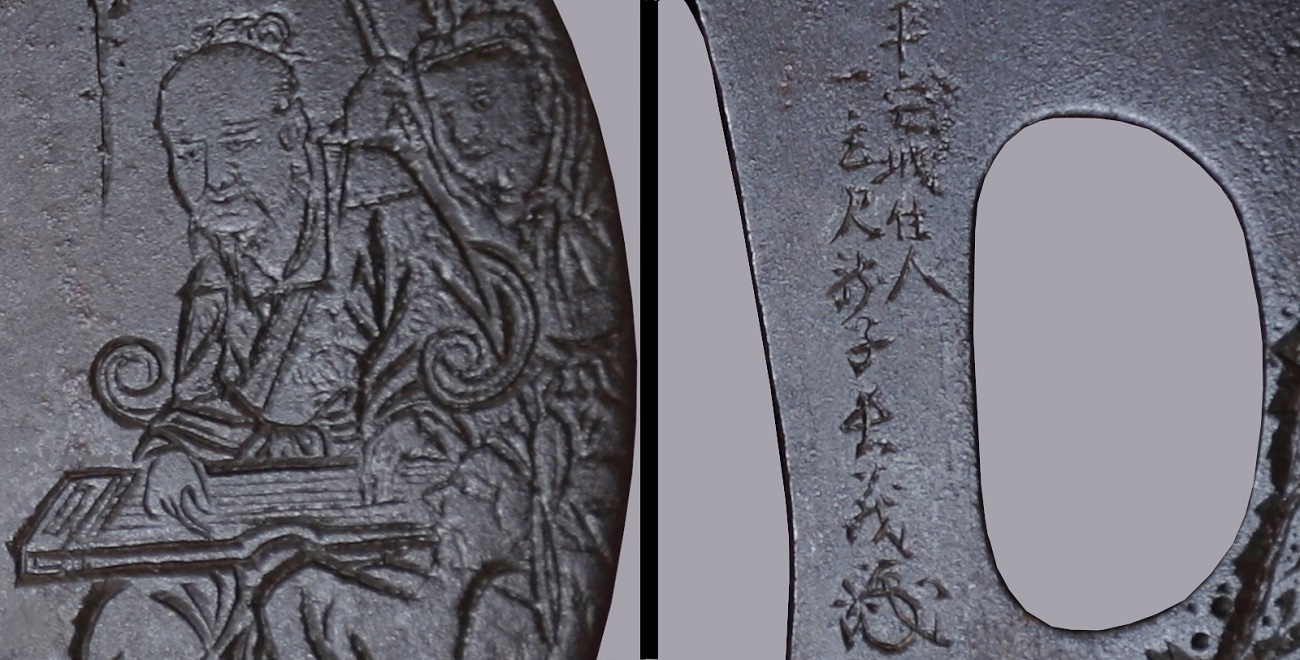 info@tosoguya.com