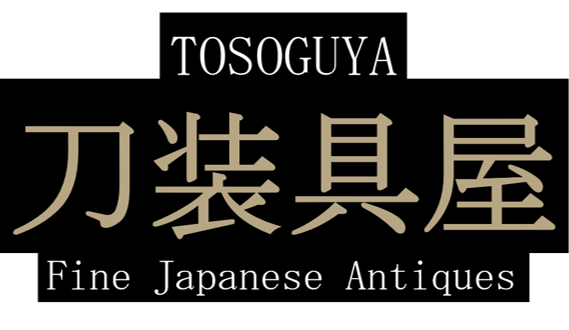 Ko-Kinkō Kani Kōgai
This ko-kinkō kōgai (古金工笄) is made of black shakudō. The motif is a single crab or kani (蟹) on a background of very fine nanako (魚子). The nanako is age-worn, to the point of being almost completely polished smooth, giving the plate a high luster. This degree of wear is unusual, and attests to the great age. The motif has been carved in relief, by a technique is called sukisage-bori (鋤下彫), where metal was progressively removed from the edge inward to the center with the motif. The eyes of the crab are inlaid in gold. Towards the top of the decorative plate, The engraved warabite (蕨手) is small, broad and proportionate between the shoulders. The shoulders (kata 肩) taper to a gracefully thin neck (kubi 頸), terminating in the end scoop (mimikaki 耳掻), which is fine and well balanced. From an artistic perspective, this is a very dignified piece, suggesting that its owner was a person of refinement and means.
Sasano notes that this kōgai may be the thinnest known. It is flat with no niku, or rounding around the edges to the back. We are all used to seeing early tsuba with unusually thin hitsuana, but finding a corresponding kōgai that passes through the gap is impossible - understandably, as something so fine would have a reduced longevity, and likely there are only a very small number in existence. This piece is only 2mm thick at the plate, and clearly would correspond to this style. It's long, thin shape reminds us of earliest ko-Mino work, and stylistically it is close to Gotō style, which would have been influenced by such precursors.
The crab motif represents bravery, and would have been a relatable motif to samurai of the period. It's period of production is likely the end of the Nanbokucho period to earliest Muromachi, and both dates are attributed in literature. My feeling is that early Muromachi is a more appropriate dating.
Published in among others:

Tōsōgu no Kigen. Sasano Masayuki. 1979. pg. 233
Jidai Mitokoro-shu. Japanese Sword Fittings Museum and Ikeda Suematsu. 1986. pg. 132
Ko-Kōgai. Ikeda Suematsu and Miyake Teruyoshi. 1997. pg. 288
Translation of the NBTHK Tokubetsu Hozon paper description follows:
蟹図笄 (Kani-zu kōgai )
無銘 古金工 (Mumei ko-kinkō)
赤銅 魚子地 高彫 色絵 (Shakudō nanako-ji takabori iroe)
Reiwa 4th year (2022) December 22nd
Measurements: 21.4cm x 1.1cm x 0.34cm highest point of motif; 0.21 cm at the plate
Nanbokucho - Early Muromachi Period (南北朝 - 室町前期時代), ca. 1390 - 1450
$7,000
Ko-Kōgai. Ikeda Suematsu and Miyake Teruyoshi. 1997. pg. 288
Jidai Mitokoro-shu. Japanese Sword Fittings Museum and Ikeda Suematsu. 1986. pg. 132
Tōsōgu no Kigen. Sasano Masayuki. 1979. pg. 233


info@tosoguya.com