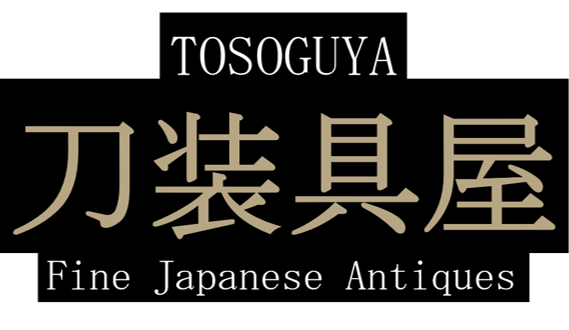 Shōami Tadatsugu Tsuba
Signed sukashi tsuba by Shōami Tadatsugu (忠次) of a wheel motif. The simplicity and precision of this work reflects the long tradition of works done in the Kyōto area. Don't be fooled by the simplicity of the design. This tsuba demonstrates a high level of craftsmanship. The simplicity of design is a sign of refinement, which draws attention to the skill of the craftsman. In this case, Tadatsugu executed a series of 16 precise, very narrow spokes as well as the kogai hitsu, out of a thick iron plate. In most such works of the period, the spokes are far less uniform, often thicker, and commonly have every other spoke inlaid, which was a simpler process than methodically cutting perfectly linear bars from the iron plate. The iron itself is of a very high quality, typical of the kind used by armorers of the period, and has a deep brown, almost black color and uniform patina. The rim is rounded, while the sukashi is perfectly squared. The surface has been smoothed, and hints of the fold lines can be seen in the rim.
Tadatsugu is known to have been active in Kyōto in the late 17th century, with a dated work of 1678.
Index of Japanese Sword Fittings and Associated Artists, Robert E. Haynes, Reference: H09188.0, page 1834.
Measurements: 7.7cm x 7.6cm x 0.6cm
Mid Edo Period (江戸中期), ~1700.
$1,000


info@tosoguya.com